---
Bazz::Murda is a full-featured AU/VST synth dedicated to kick-drums and bass synthesis.

Disto::Fx is a mac/windows host based distortion effect.

DistoFonic is a mac/windows host based dual-band distortion effect.

Don't steal and sample bassdrums, be creative and design them from scratch with the new "DC Bazz::Murda" AU/VST synth.
We've spent a huge amount of hours and sleepless nights coding,
designing and improving this little piece of software
and if you like this plug-in, find it useful or use it quite often,
why not donate money to support further development?

Contents:
---
Disto::Fx PRO Version 1.7.1 (2022-09-25):

GUI and usability improvements
preset and distortion drop-down lists selection is now devided into corresponding sub-menus
new "Neo-Fuzz" distortion curve
improved audio processing pipeline
improved filter band-width parameter control
fixed stereo panning for input signals
refreshed factory presets
cosmetic bug fixes
Plug-In Tab Screenshot: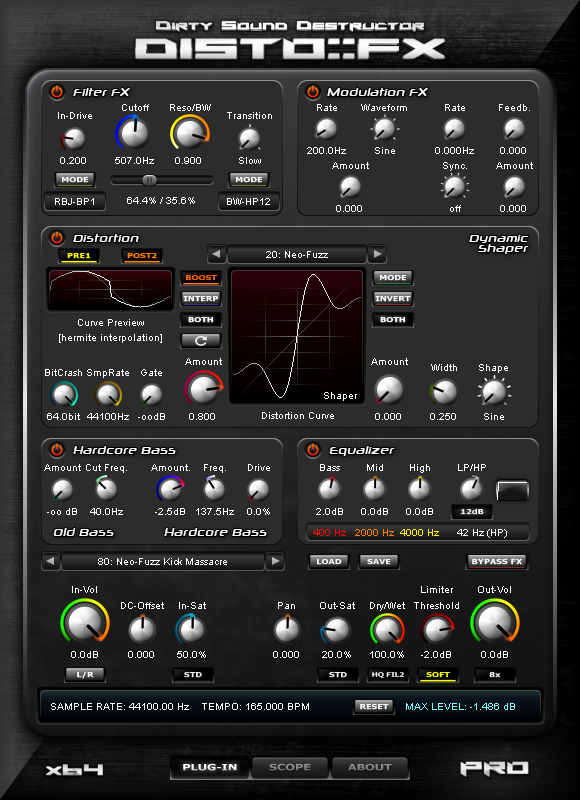 Disto::Fx FREE Version 1.7.1 (2022-09-23):
GUI and usability improvements
preset and distortion drop-down lists selection is now devided into corresponding sub-menus
improved audio processing pipeline
fixed stereo panning for input signals
refreshed factory presets
cosmetic bug fixes
Plug-In Tab Screenshot: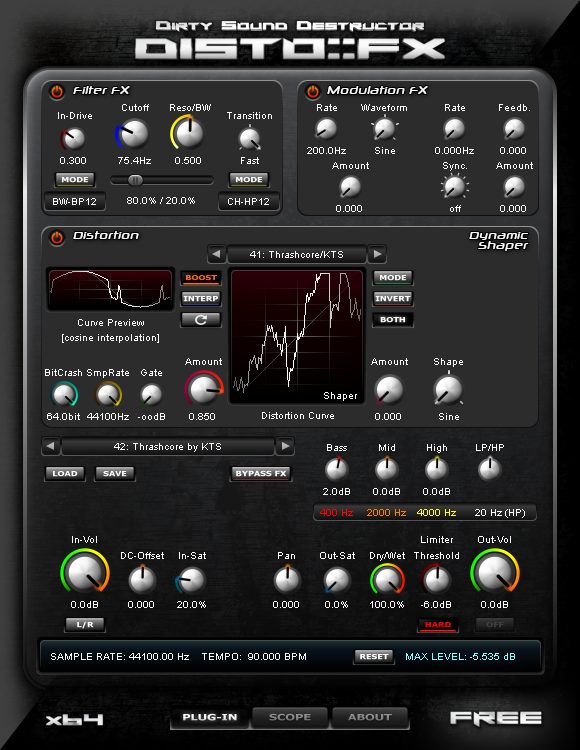 DistoFonic Version 1.0 (2022-07-31):
64-bit audio processing and distortion engine
Distortion Unit with 79 distortion curves, 3 different operating modes and Bit Crusher/Sample Rate Converter/Gate controls
Dynamic Waveshaper with 9 different Shape Forms + Shape Inverter + 4 Dynamic Shaping Modes + Shape-Width Control Parameter
4 Band Equalizer for Sub- and Disto-Band
Sub-/Disto-Band Processor with flexible band split frequencies
Filter Unit with 27 different filters and controllable input drive, cutoff, resonance, transition speed and left/right filter type balance
Input Unit lets you control the input volume, saturation and DC offset
Output Unit with pan, saturation, dry/wet balance, 3 modes clipper/limiter, output volume and oversampling mode control
Plug-In Tab Screenshot: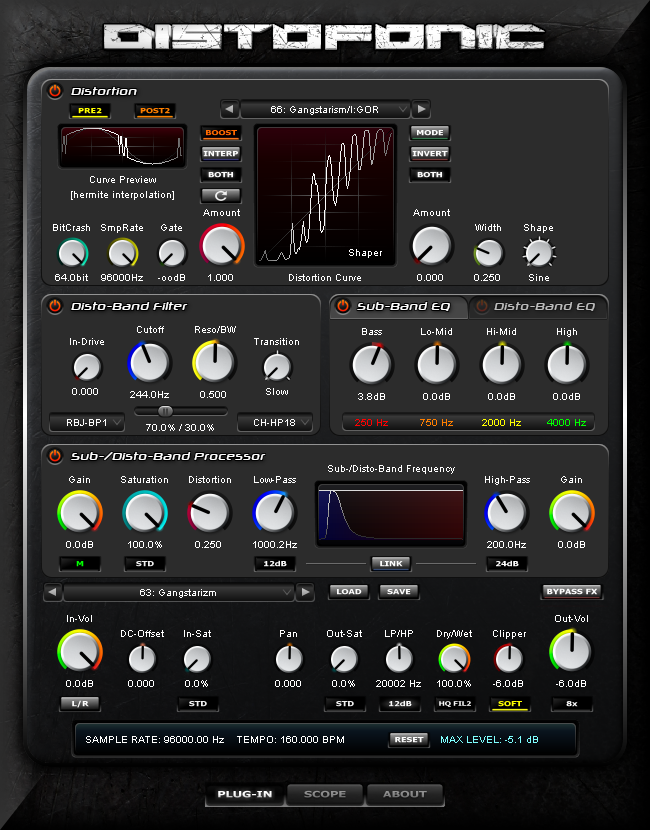 Bazz::Murda Version 1.8.2 PRO (2022-06-03):
Bazz::Murda is now available as VST3 version for both MacOS and Windows
new clipper/limiter with controllable threshold level and operating modes: off/soft/standard/hard
phaser tempo-sync. knob allows users to synchronize phaser-rate with host tempo
new and improved distortion curve processing functions for curve filtering and quantization
improved sample-rate conversion algorithm
improved noise-gate algorithm
improved click texture syntesis
audio-signal flow optimization and pipeline improvements
preset drop-down list selection is now devided into corresponding sub-menus
refreshed factory presets
cosmetic bug fixes
Synth-Tab Screenshot: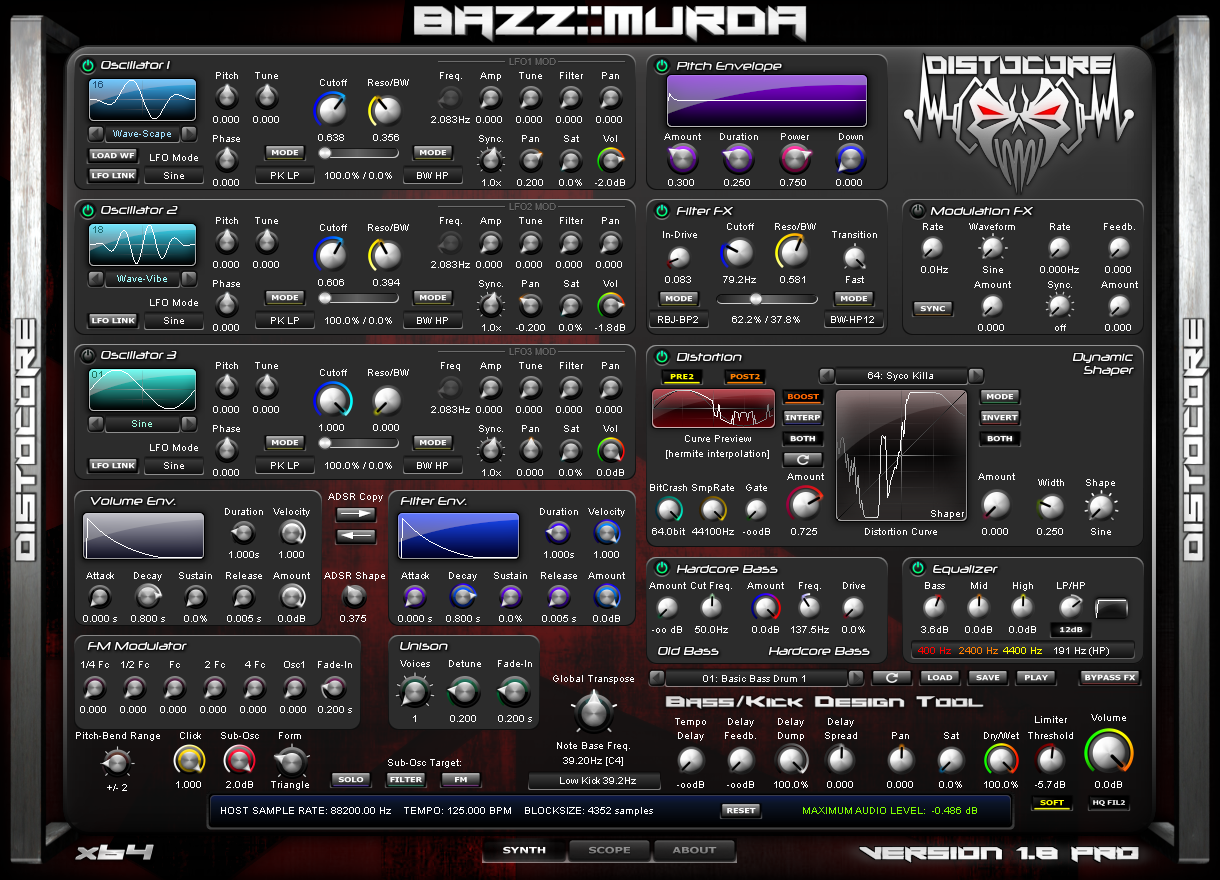 Bazz::Murda Version 1.8.2 FREE (2022-05-06):
Bazz::Murda is now available as VST3 version for both MacOS and Windows
new hard limiter with controllable threshold level
phaser tempo-sync. knob allows users to synchronize phaser-rate with host tempo
new and improved distortion curve processing functions
improved sample-rate conversion algorithm
improved noise-gate algorithm
audio-signal flow optimization and pipeline improvements
refreshed factory presets
cosmetic bug fixes