---
Bazz::Murda is a full-featured AU/VST synth dedicated to kick-drums and bass synthesis.
It is aimed at hard electronic music like hardcore, gabber, drum&bass and Dubstep.
If you like heavy and distorted hardcore sounds or massive wobble bass-lines don't miss it in your audio plug-ins collection.
Key features:
3 alias-free wavetable oscillators
1 additional sub-oscillator with 5 waveforms* and a separate modelling path for a clean bass-layer
3 free-running or tempo-synced LFOs with different signal modes allowing oscillator cross-modulation
two filter-banks a 15 filters* per oscillator with cross fade control per oscillator
volume and filter ADSR with independent shape, amount and duration control
sophisticated pitch envelope for complex bass/kick drum models
2/9* voices unison unit with fade-in option* for bass/kick drum application
FM modulator unit with fade-in option* for bass/kick drum application
16 different note modes*: standard MIDI, fixed frequencies for bass/kick drums and 8 major/minor arpeggiator modes for chiptune sounds
Tempo delay
Build-in multi-fx with multi-mode filter, ring modulator, phaser and 3 band EQ
Hardcore bass unit for boosting kick drum bass range*
Build-in powerful distortion unit with specially engineered, editable distortion curves for hardcore bass/kick drums
Advanced visualization for output and LFO signals
127 presets (listen to audio samples)
* PRO version only

DistoCore Bazz::Murda is used by top hardstyle, gabber, hardcore, terror, uptempo and speedcore producers.
Here you can listen to tracks made entirely with Bazz::Murda for the KVR OSC #126 challenge

---
Bazz::Murda Version 1.8 PRO VST Custom EDM, Trap and Hip-Hop Beats
Bazz::Murda Version 1.8.0 PRO (2020-05-08):
GUI and usability improvements
drop-down list for waveform, filter, distortion and note-mode selection
new start phase parameter added to oscillator unit
new filters added to oscillator unit, now you can filter oscillator signals using 15 different low-pass, high-pass, band-pass and band-stop filters
LFO can now be applied to control the pan parameter
oscillator 1 FM function amount control for using oscillator 1 as FM modulator for the other oscillators
new ADSR algorithm with shape, amount and velocity control
updated sub-oscillator unit with 5 diffrent waveforms
pitch-bend range control
new "waveshape" distortion FX mode
new "PRE" and "POST" distortion modes for controlling the FX chain
Filter slope control (12dB/24dB) for Low-Pass/Hi-Pass unit
tempo delay spread control for controlling delay offset between the left and right channel
HQ bessel filter option for final processing
performance optimization
refreshed factory presets
Synth-Tab Screenshot: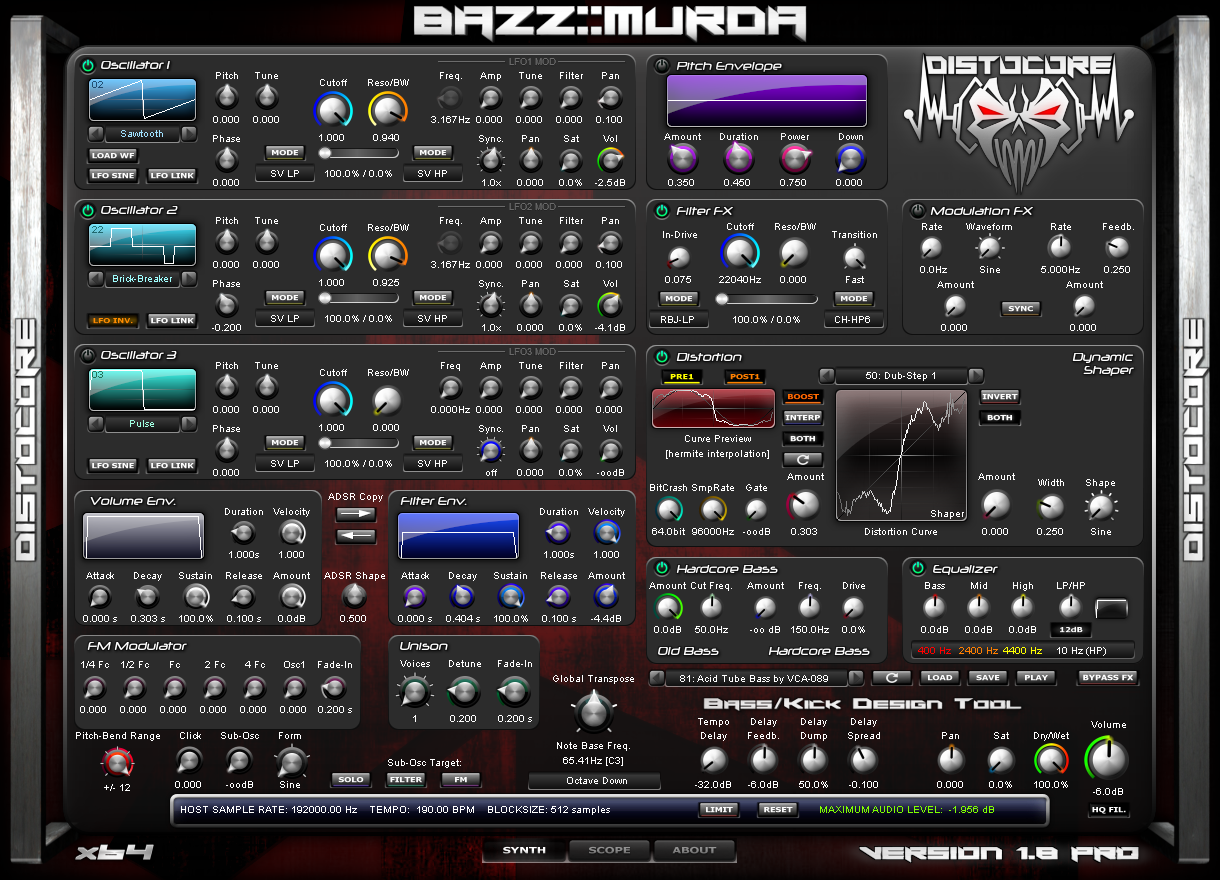 A picture is worth a thousand words.
Here is a brief and concise review by Crime1minister
Check also his preset pack for Bazz::Murda 1.8 FREE in the download section.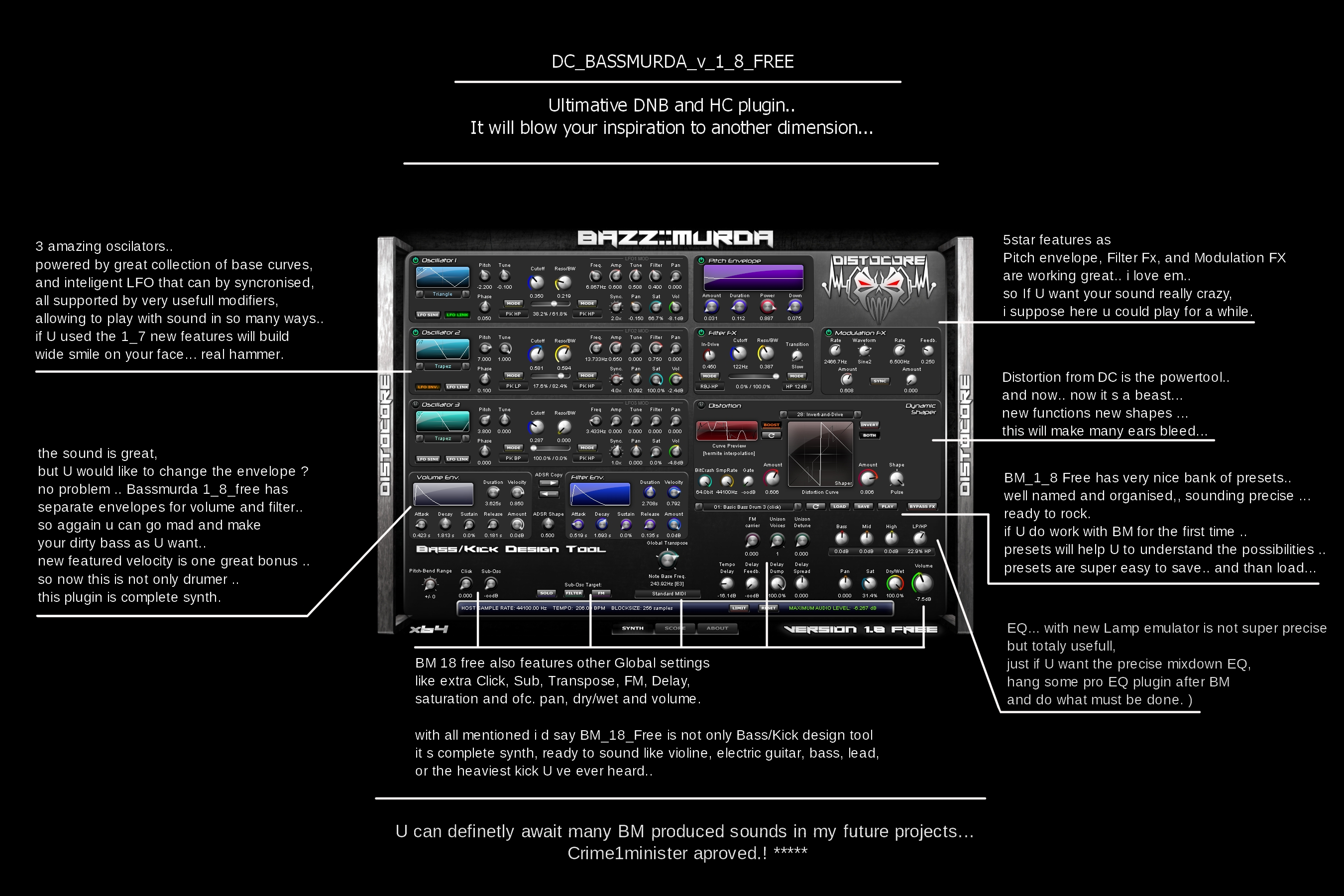 Bazz::Murda Version 1.8.0 FREE (2020-04-06):
GUI and usability improvements
drop-down list for waveform, filter, distortion and note-mode selection
new start phase parameter added to oscillator unit
new filters added to oscillator unit, now you can filter oscillator signals using low-pass, high-pass and band-pass filter
LFO can now be applied to control the pan parameter
new ADSR algorithm with shape, amount and velocity control
pitch-bend range control
new "waveshape" distortion FX mode
tempo delay spread control for controlling delay offset between the left and right channel
performance optimization
refreshed factory presets
Synth-Tab Screenshot: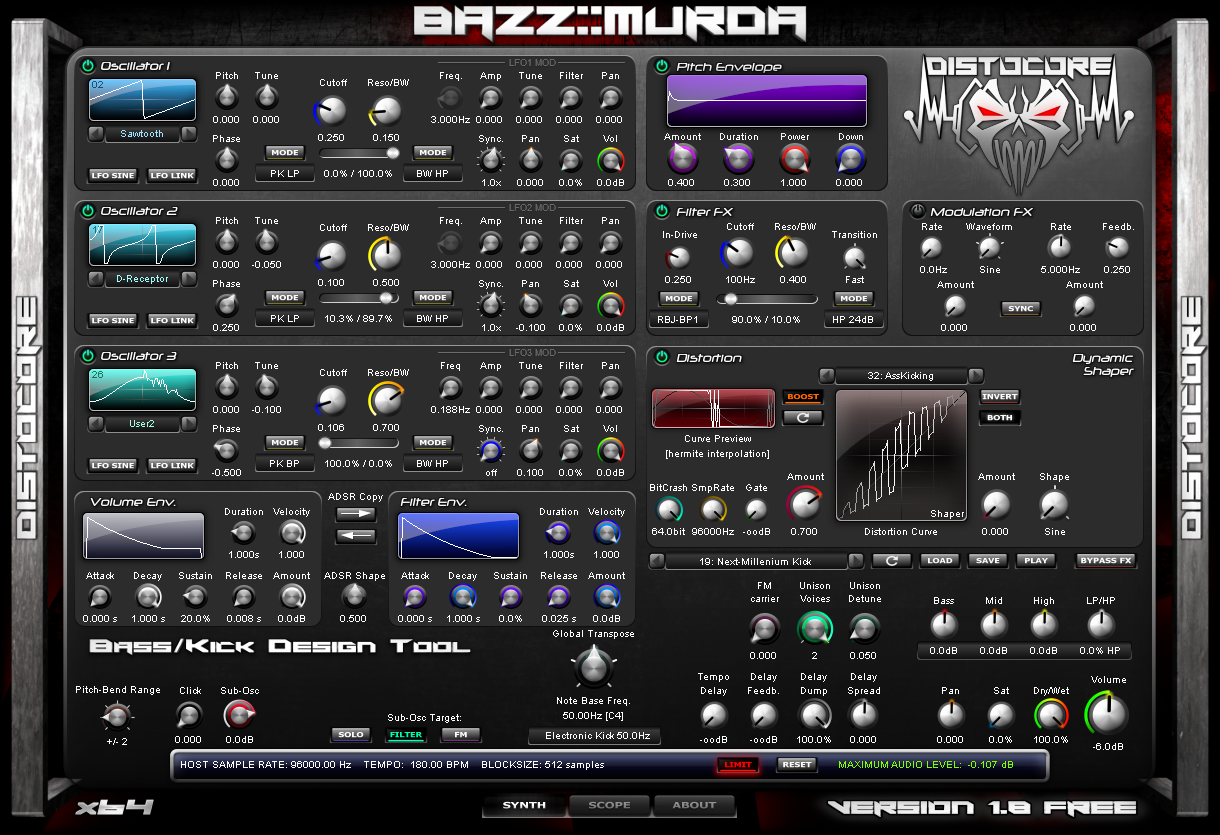 Bazz::Murda presets audio samples:
| | | |
| --- | --- | --- |
| Basic Bass Drum 1 | | ⇩ |
| Basic Kick Drum 1 | | ⇩ |
| Electronic Kick | | ⇩ |
| Laser Kick | | ⇩ |
| Oldschool Bass Drum 1 | | ⇩ |
| Rawstyle Kick | | ⇩ |
| Kielecki Kick Drum 1 | | ⇩ |
| Industrial Crunch Kick | | ⇩ |
| Drum Body by VCA-089 | | ⇩ |
| Closed Hihat by FrankH | | ⇩ |
| Open Hihat by VCA-089 | | ⇩ |
| Snare-Drum | | ⇩ |
---
Here is our SoundCloud playlist with all tracks made with Bazz::Murda by DistoCore for the
KVR One Synth Challenge #126
---

Another Bazz::Murda audio example:
This track was produced by the Unknown Challenger for the KVR One Synth Challenge #121/10 Year Anniversary.
The challenge, as the name implies, is to make a track just with one virtual synthesizer for all sounds, including percussion.
The "Blaze Your Own Trail" track was completely made with Bazz::Murda 1.7 FREE.
Unknown Challenger used 15 instances of our synthesizer for this production.
This track demonstrates the wide variety of sounds, which can be generated by the DistoCore Bazz::Murda.
Congratulation! Great idea, production and sound design :)