---
Bazz::Murda is a full-featured AU/VST synth dedicated to kick-drums and bass synthesis.
It is aimed at hard electronic music like hardcore, gabber, drum&bass and Dubstep.
If you like heavy and distorted hardcore sounds or massive wobble bass-lines don't miss it in your audio plug-ins collection.
Key features:
3 alias-free algorithm- and wavetable-based oscillators
1 additional sine-wave oscillator with separate modelling path for a clean bass-layer
3 free-running or tempo-synced LFOs with different signal modes allowing osc cross-modulation
LP/HP filter unit with cross fade control per oscillator
volume and filter ADSR with independent duration control
sophisticated pitch envelope for complex bass/kick drum models
2/9* voices unison unit with fade-in option* for bass/kick drum application
FM modulator unit with fade-in option* for bass/kick drum application
Note modes: normal, bass/kick drum and 8 major/minor arpeggiator modes for chiptune sounds
Tempo delay
Build-in multi-fx with multi-mode filter, ring modulator, phaser and 3 band EQ
Hardcore bass unit for boosting kick drum bass range*
Build-in powerful distortion unit with specially engineered, editable distortion curves for hardcore bass/kick drums
Advanced visualization for output and LFO signals
* PRO version only

DistoCore Bazz::Murda is used by top hardstyle, gabber, hardcore, terror, uptempo and speedcore producers.

---
Bazz::Murda Version 1.7.1 FREE (2019-05-12):
fix AU validation by setting Meta Param Flag for LFO frequency and LFO sync. all parameter flags
processing of MIDI pitch-bend events
new note mode "KICK HIGH" centered at 52.4 Hz
improved filter input distortion algorithm
improved output saturation algorithm
new waveform visualization mode: "half" for better output and LFO signals overlay visibility
new/improved scope tab GUI buttons
performance optimization
refreshed factory presets
Bazz::Murda Version 1.7.0 PRO (2019-01-24):
band-limited wave-table oscillators
tempo synced LFOs
new LFO signal modes: 'positive', 'negative', 'absolute' and 'inverted' for different modulations
tempo delay with amount, feedback and dump controls
8 new major/minor note modes for chiptune sounds
new powerful distortion engine with distortion curve import/export and different draw&edit options
new scope tab for visualizing LFO and output signals with zoom and freeze options
option for sending bass-layer signal to FM modulator
new build-in user waveforms
refreshed factory presets
performance optimization
cosmetic bug fixes
PRO Version Synth-Tab Screenshot: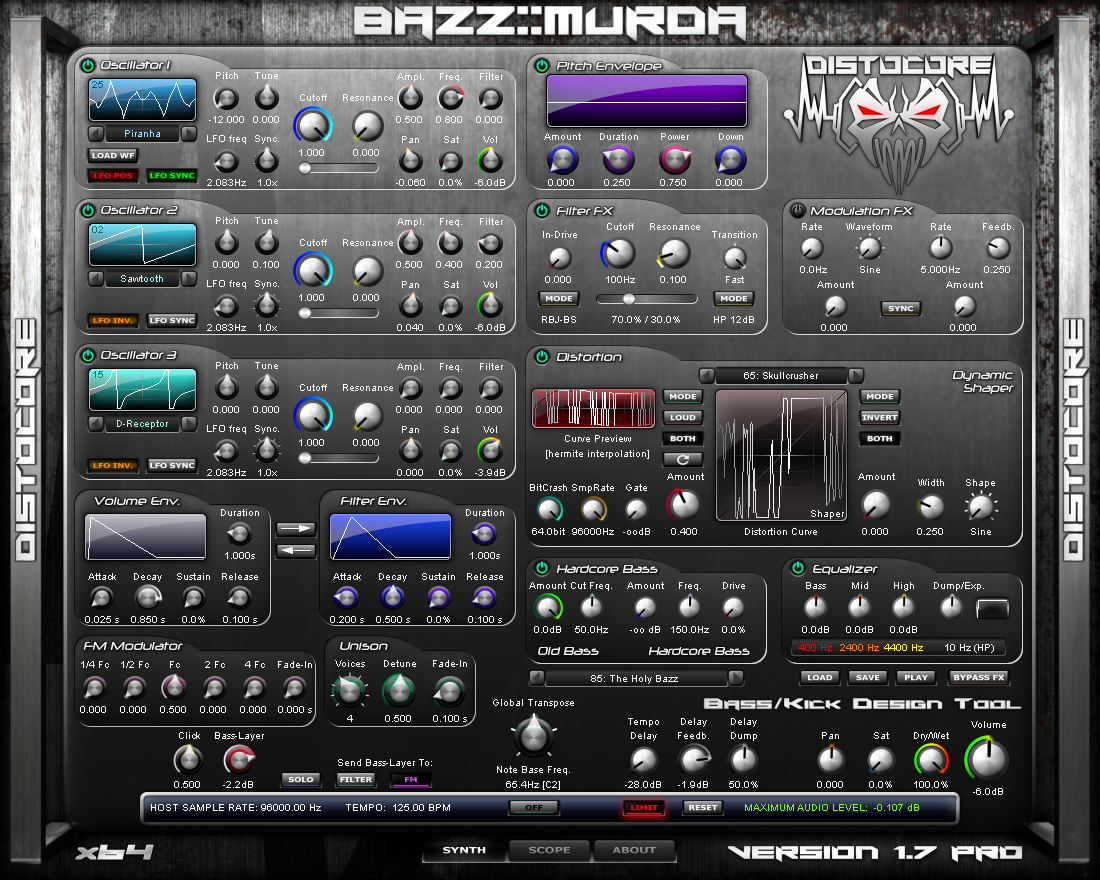 Bazz::Murda Version 1.7.0 FREE (2019-01-06):
band-limited wave-table oscillators
tempo synced LFOs
new LFO signal modes: 'positive', 'negative', 'absolute' and 'inverted' for different modulations
tempo delay with amount, feedback and dump controls
1/16 major/minor arpeggiator note mode for chiptune sounds
new powerful distortion engine with distortion curve import/export and different draw&edit options
new scope tab for visualizing LFO and output signals with zoom and freeze options
option for sending bass-layer signal to FM modulator
new build-in user waveforms
refreshed factory presets
performance optimization
cosmetic bug fixes
Synth-Tab Screenshot: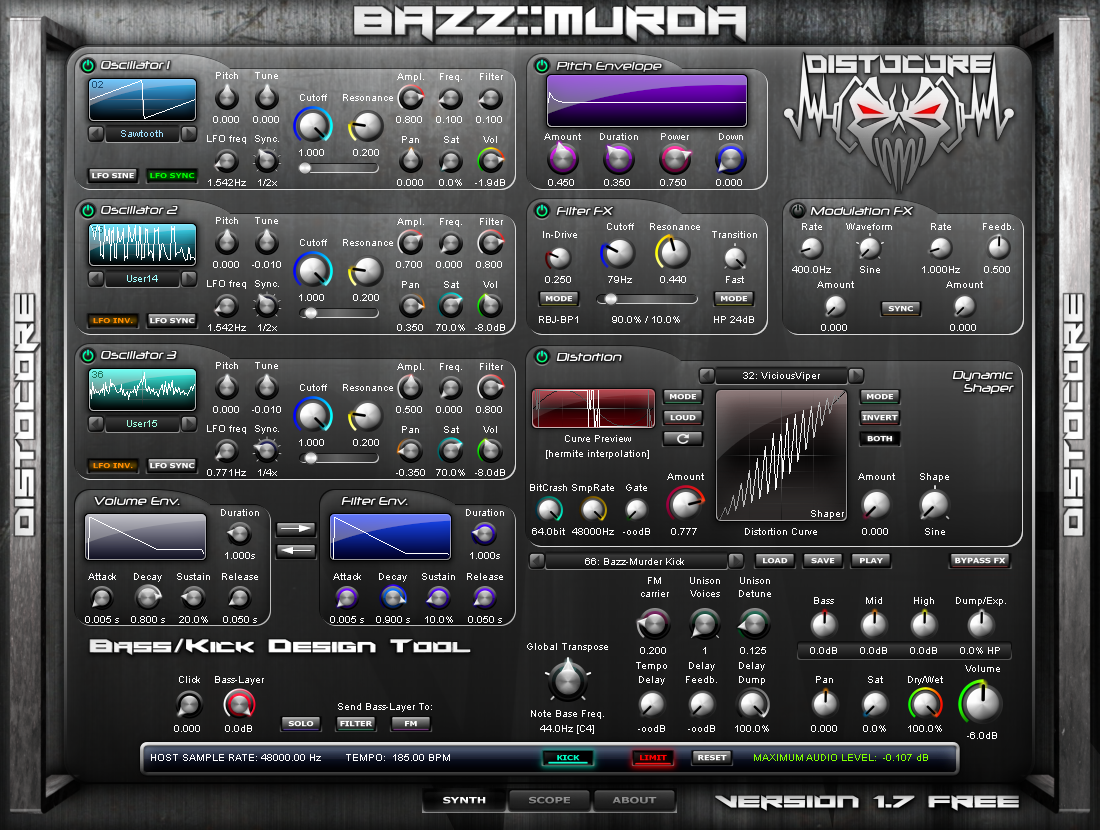 Bazz::Murda Version 1.6.0 PRO (2017-08-25):
new dynamic shaper unit (same as in Dirty Sound Destructor [Disto::Fx])
play button for playing(LMB)/stopping(RMB) a single kick/note
support of import/export of the VST FXP binary program format files from GUI
enhanced and improved "click" knob for coloring bass/kick drum clicks
improved oscillator waveforms and playback algorithm
improved unison unit
fixed FM modulation start for new note keys
refreshed factory presets
synthesis engine optimization
multiple plugin usage fixed
cosmetic bug fixes
PRO Version Synth-Tab Screenshot: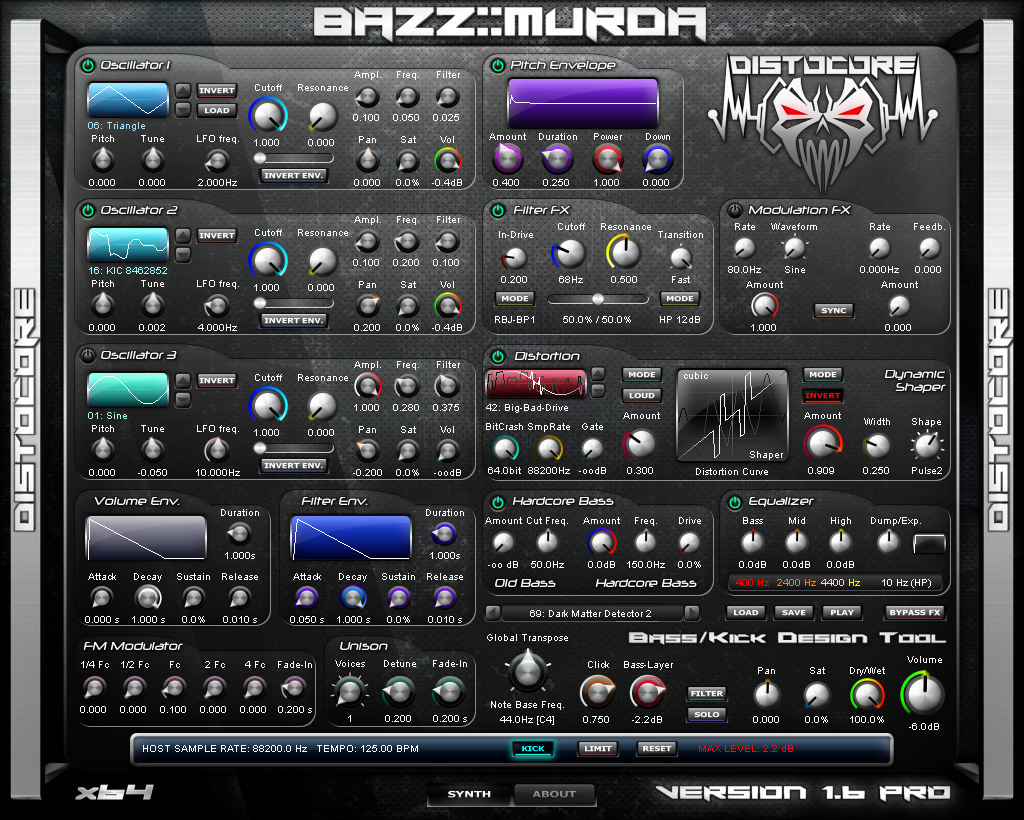 Bazz::Murda Version 1.6.0 FREE (2017-07-30):
new dynamic shaper unit (same as in Dirty Sound Destructor [Disto::Fx])
play button for playing(LMB)/stopping(RMB) a single kick/note
support of import/export of the VST FXP binary program format files from GUI
enhanced and improved "click" knob for coloring bass/kick drum clicks
improved oscillator waveforms and playback algorithm
fixed FM modulation start for new note keys
refreshed factory presets
synthesis engine optimization
multiple plugin usage fixed
cosmetic bug fixes
FREE Version Synth-Tab Screenshot: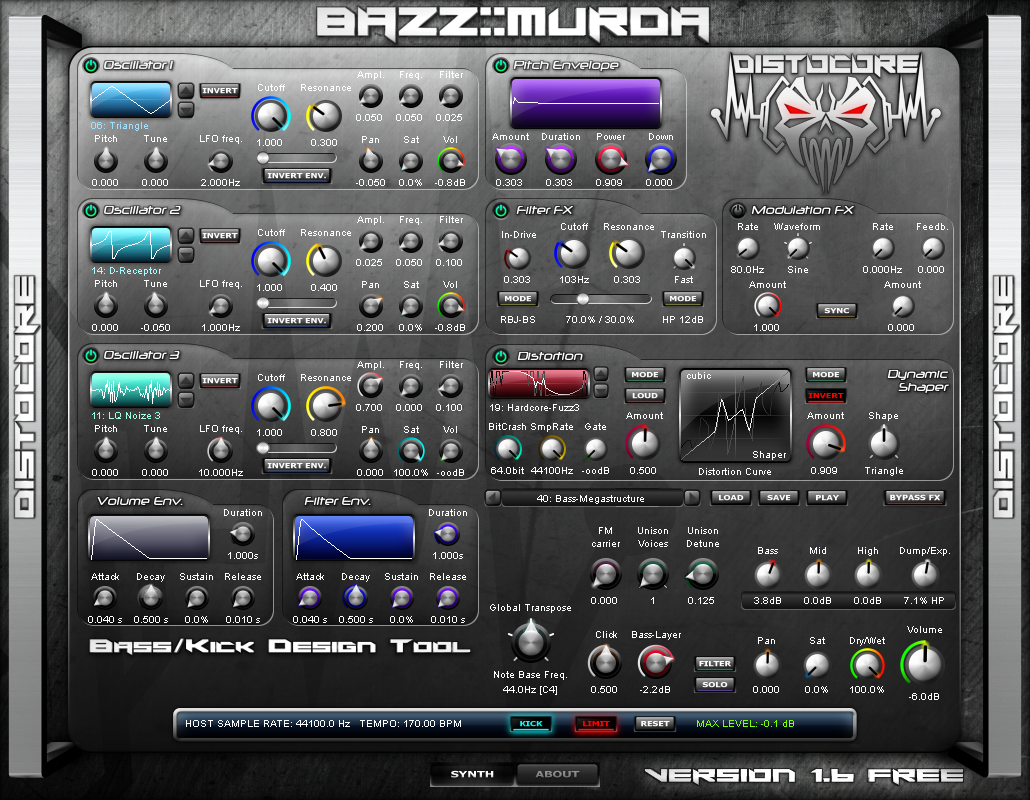 FREE Version About-Tab Screenshot: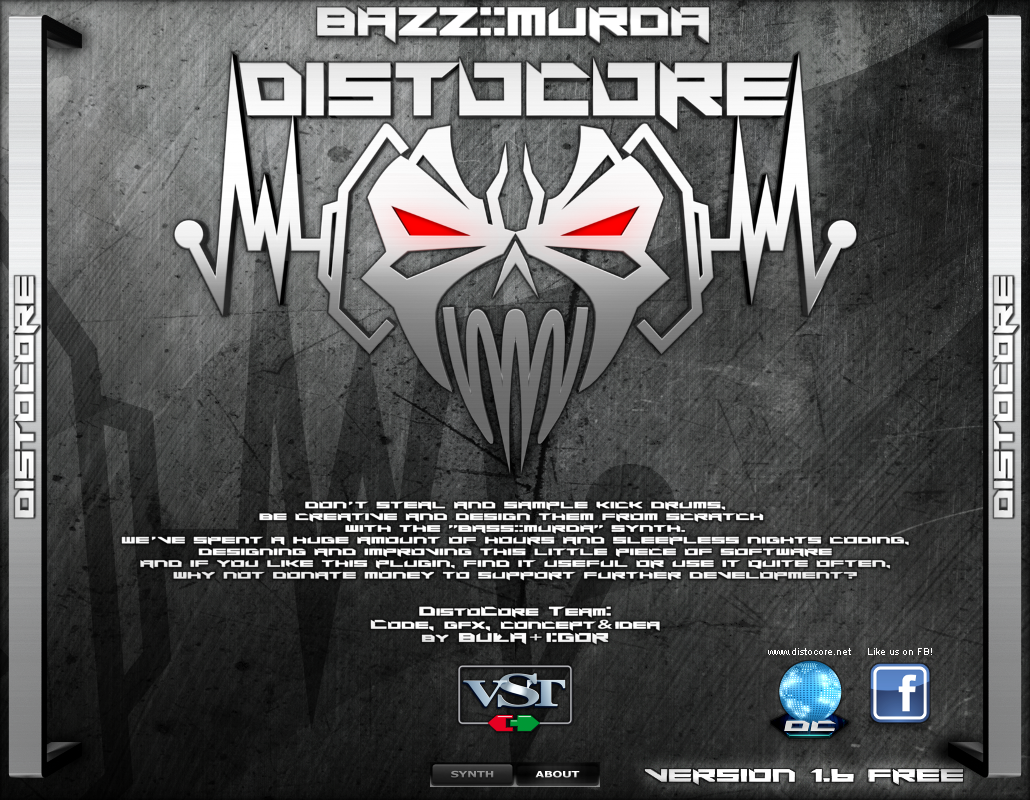 Bazz::Murda Version 1.5 FREE basic, oldschool and hardcore kicks video:
Version 1.5.2 (2016-07-10):
fix for FL Studio: enable default parameter automation
drop-down list for factory presets
Version 1.5.1 PRO (2016-06-25):
FM frequency modulation with fade-in option
9 voices unison with fade-in option
option for adding clicks for drum sounds
new and reworked 127 factory presets with many powerful kicks, bass and synth sounds
new "kick/drum" mode for playing low frequency kicks
pitch envelope with additional pitch down parameter
filter engine with input drive and transition type selection
14 filters with controllable cutoff and resonance
powerful distortion engine with 46 distortion curves
ring modulator with different waveforms
hardcore bass unit (bass booster for hardcore kicks)
127 factory presets with many powerful kicks, bass and synth sounds
on/off switches for oscillators and all fx units
hard limiter, pan and dry/wet controls
costs: donation of 20 Euro or more
PRO Version Synth-Tab Screenshot: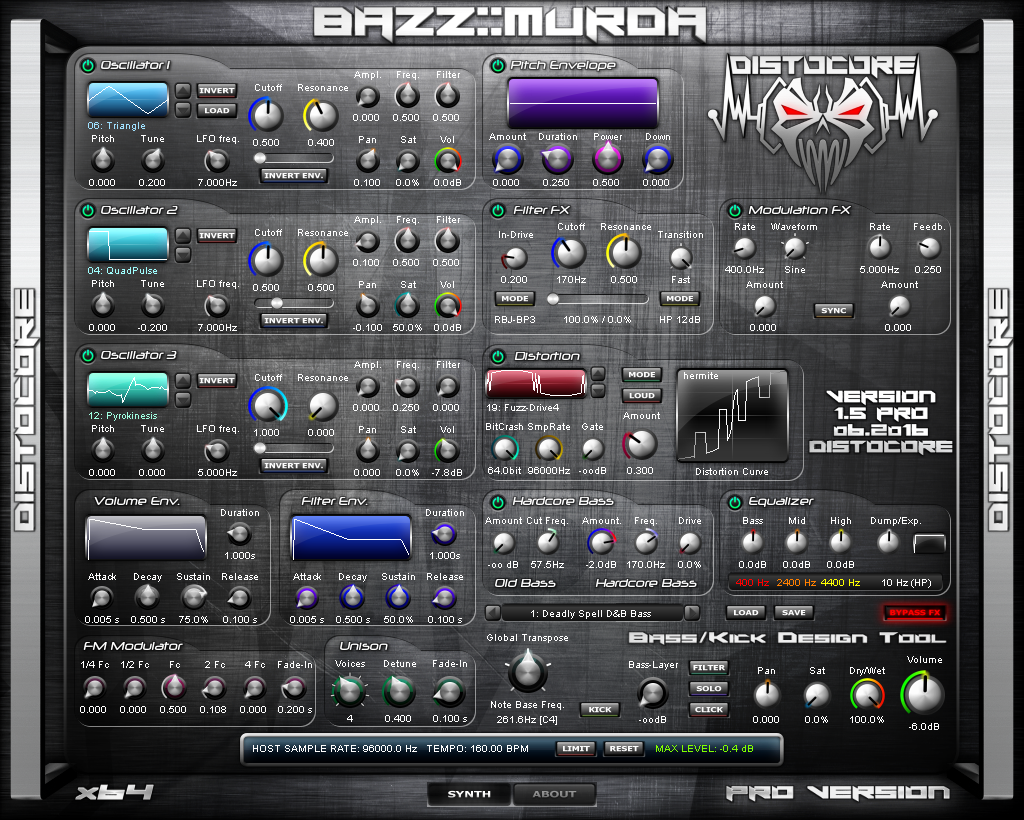 PRO Version About-Tab Screenshot: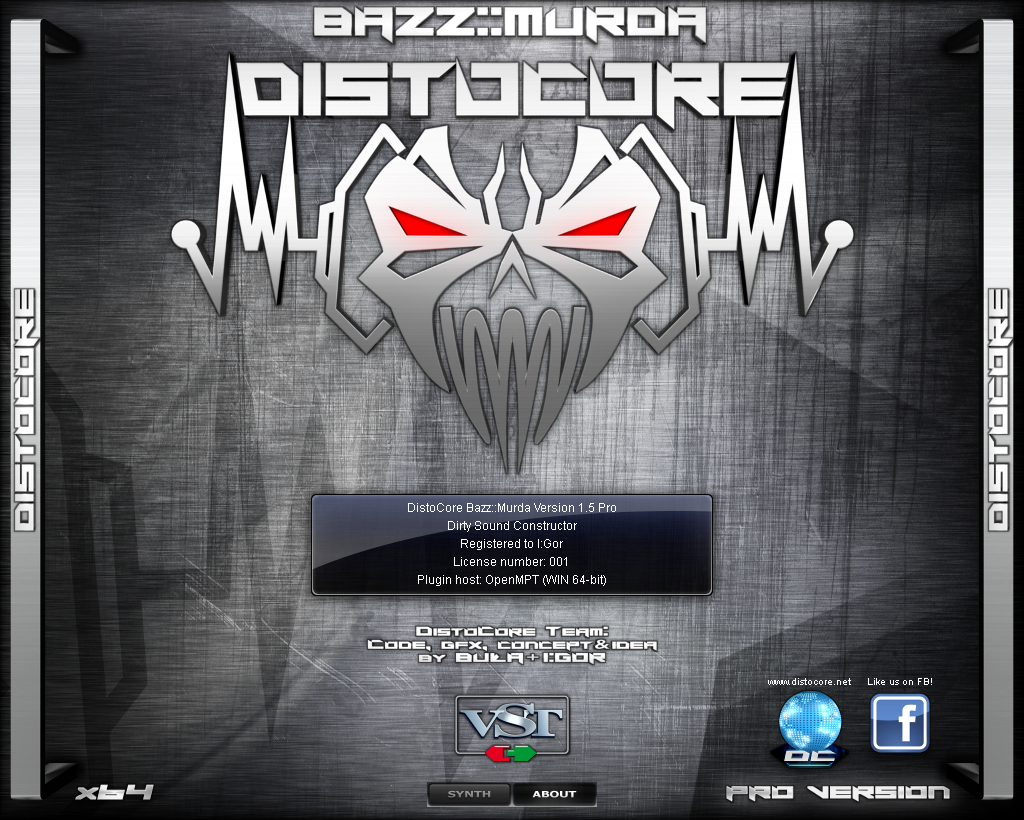 Version 1.5.1 FREE (2016-06-21):
fix for Ableton: all internal parameter values are normalized
Bazz::Murda Version 1.5.0 FREE (2016-06-19):
FM carrier frequency modulation
2 voices unison
new option for adding clicks for drum sounds
new and reworked 127 factory presets with many powerful kicks, bass and synth sounds
new "kick/drum" mode for playing low frequency kicks
improved filter engine with input drive and transition type selection
8 filters with controllable cutoff and resonance
improved distortion engine (same as in Dirty Sound Destructor [Disto::Fx]) with 29 distortion curves
improved ring modulator with different waveforms
improved pitch envelope with additional pitch down parameter
improved factory presets access
127 factory presets with many powerful kicks, bass and synth sounds
on/off switches for oscillators and all fx units
new hard limiter, pan and dry/wet controls
cosmetic bug fixes
FREE Version Synth-Tab Screenshot: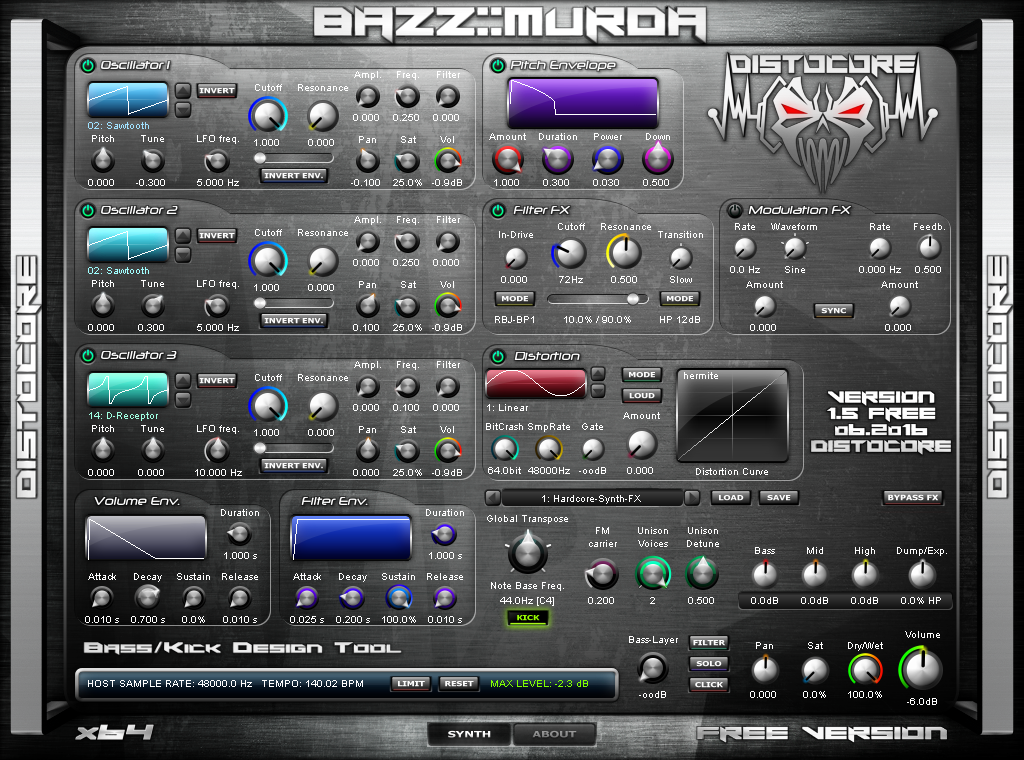 FREE Version About-Tab Screenshot: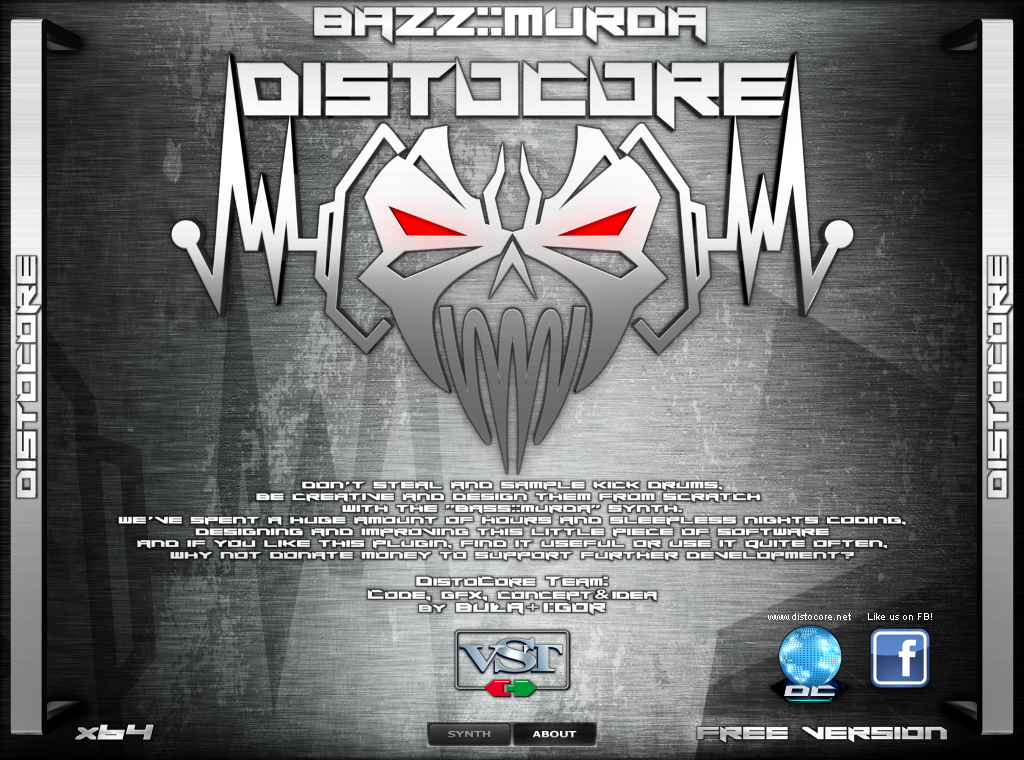 Bassdrum murda version 1.2 features video tutorial: